LTO-5 HH

Reliable, High-capacity Tape Drives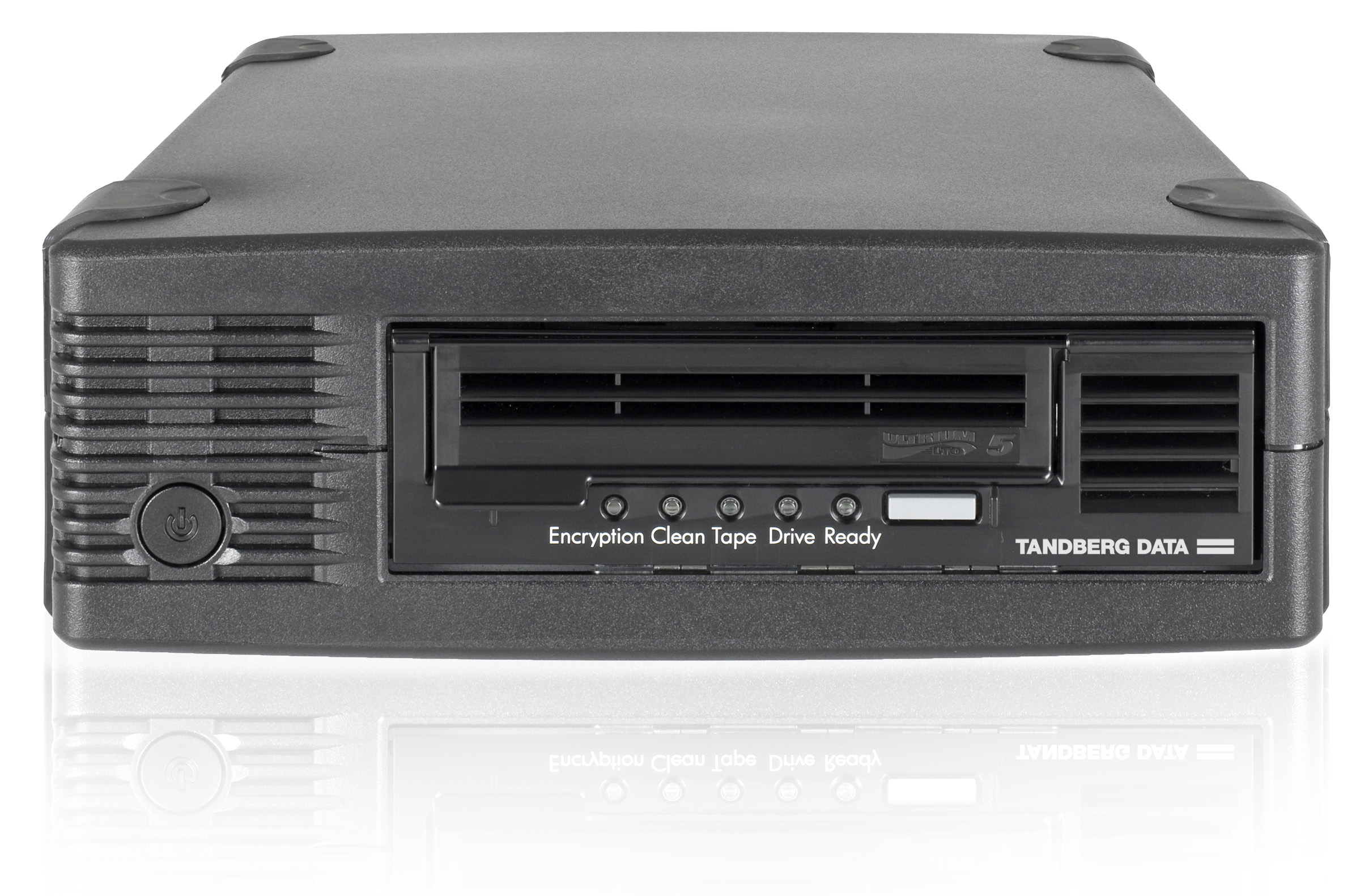 More pricing below, click here

Please Note: All Prices are Inclusive of GST
The Tandberg Data's LTO-5 half-height (HH) tape drive brings enterprise-level capacity and performance to small and medium businesses at an affordable price. The Tandberg Data LTO-5 HH drive is able to store up to 3.0TB* of data on a single cartridge offering the lowest storage cost per gigabyte of any medium. Tandberg Data LTO-5 HH tape drives offer industry leading performance up to 1 TB/hr* (280 MB/sec), reducing backup and restore times to a minimum.
Capacity: 1.5 / 3.0TB (native/compressed)
Performance up to 1.0 TB/Hr (compressed)
Low cost of ownership and low media cost
Enterprise features and performance in a small form factor
Future proof with 8-generation roadmap
Data speed matching reduces mechanical wear and extends tape life
Proven reliability MTBF of 250,000 hrs at 100% duty cycle
Low power consumption: 6.9 W (sleeping mode) and 20 W (operating mode)
WORM and Encryption (AES 256-bit)
30 year archival life
3 years Advanced Replacement Service warranty
Tandberg Data manufactures an array of LTO-5 HH models including internal, external and rackmount configurations, with a choice SAS or FC connectivity. Tandberg Data is the only manufacturer to offer a LTO-5 HH FC external tape drive. All Tandberg Data LTO-5 tape drives support LTFS (Linear Tape File System). LTFS simplifies archiving tasks and is fast becoming the standard recording format within the video and entertainment industry.
Tandberg Data is the sole manufacturer of LTO-5/6 HH fibre channel external (table-top) tape drives, when used in conjunction with a FC to Thunderbolt bridge (Promise or Atto) the LTO-5 tape drives provides customers, especially Mac users, with a unique and high performance backup and archiving solution to simplify digital workflow and archiving needs.
LTO tape technology makes it easy for users to standardize on a tape technology that meets today's data capacity requirements and ensures futures growth potential. LTO's eight-generation roadmap, with four generations available today makes it a clear choice for small to medium businesses.
Turnkey Solution
The Tandberg LTO-5 HH ships with Symantec's Backup Exec QuickStart software, embedded media management for intelligent diagnostics and tape alerts, and comes with 3 years warranty and support. (Backup Exec QuickStart software is only supplied with kitted products).
Media Compatibility
The Tandberg LTO-HH is compatible with industry standard, multi-sourced LTO media. To achieve the best reliability, Tandberg LTO branded and qualified data cartridges are recommended.
Key Benefits:
Backup as much as 30TB of data on a single cartridge
Reduce your backup window and use of server and network resources with high-performance data transfer rates
Maximize your investment and ensure that your data is safe with proactive drive and media management
Secure confidential information and address compliance issues with hardware data encryption and WORM support
Ensure effortless connectivity with widespread server and backup software support
Provide backward compatibility to legacy tape cartridges in automation environments
Specifications:
Capacity (native/compressed)
1.5TB / 3.0TB*
Transfer Rate (native/compressed)
140 MB/s / 280 MB/s*
Dynamic Speed Matching
47-140 MB/s / 94-280 MB/s*
Memory Buffer Size
256MB
Data Access Speed
52 sec.
Data Compression
1KB (2:1)
Encryption
AES 256-bit
LTFS
Yes (2 partitions)
Recording format
LTO Ultrium 5, LTO Ultrium 4, LTO Ultrium 3 (read only)
Reliability
MTBF Hours (100% duty cycle)
250,000 hours @ 100% duty cycle
Head Life
60,000 tape running hours
Hard Error Rate
1 x 10(-17) bits
Environmental Specifications
Temperature (Operating)***
50° - 95°F
Temperature (Non-operating)
-40° - 151°F
Relative Humidity (Operating)
20 - 80% (non-condensing)
Relative Humidity (Non-operating)
10 - 95% (non-condensing)
Power Requirements
Idle
7 W
Typical
20 W
Maximum
33 W
Power Supply/ Required (int)
5V DC, 2.5A, 12 V, 0.7A
Certification
CSA Certification to C22.2, No. 60950 (cCSAus), TUV EN60950 (IEC 60950), CE Declaration of Conformity, FCC 47 CFR Parts 15, NOM, VCCI. C-TICK, RRL, BSMI, GOSH CB Certificate and Report (IEC 60950)
Warranty
3-years Advance Replacement Service Warranty**
Dimensions
Physical Internal /
External (HxWxD)
3.3 x 5.7 x 8.2in. (8.5 x 14.5 x 20.7cm) /
4.7 x 8.6 x 11.7in. (12.0 x 21.8 x 29.7 cm)
Shipping Internal /
External (HxWxD)
10.6 x 10.6 x 13in. (27.0 x 27.0 x 33 cm) /
11 x 12.2 x 15.4in. (28 x 31 x 39 cm)
Weight
Weight Out of box, Internal
4.94 lb (2.24 kg)
Weight Out of box, External
12.28 lb (5.57 kg)
Shipping, Internal
7.9 lb (3.6 kg)
Shipping, External
16.1 lb (7.3 kg)
* Assumes compression ratio 2:1 on LTO-2/3/4/5 & 2.5:1 on LTO-6/7
** Availability dependent on location
*** The LTO-5 HH FC external tape drive should not be operated in an environment where the temperature is greater than 35°C (95°F).
Tape Drive Specifications
LTO-8
LTO-7
LTO-6
LTO-5
Capacity (native)
12TB
6TB
2.5TB
1.5TB
Capacity (Compressed)
30TB
15TB
6.25TB
3.0TB
Transfer Rate (native)
300MB/s (1TB/hr.)
300MB/s (1TB/hr.)
160MB/s (576GB/hr.)
140MB/s (504GB/hr.)
Transfer Rate (compressed)
750MB/s (2.7TB/hr.)
750MB/s (2.7TB/hr.)
400MB/s (1.4TB/hr.)
280MB/s (1TB/hr.)
Ratio
2.5:1
2.5:1
2.5:1
2:1
Interface
6Gb SAS/SFF 8088
6Gb SAS/SFF 8088
6Gb SAS/SFF 8088
6Gb SAS/SFF 8088
Configurations
Internal; external/desktop
Internal; external/desktop
Internal; external/desktop
Internal; external/desktop
Internal Dimensions (HxWXD)
1.7 in. x 5.8 in. x 8.3 in.
43.2mm x 147.3mm x 210.8mm
1.7 in. x 5.8 in. x 8.3 in.
43.2mm x 147.3mm x 210.8mm
1.7 in. x 5.8 in. x 8.3 in.
43.2mm x 147.3mm x 210.8mm
1.7 in. x 5.8 in. x 8.3 in.
43.2mm x 147.3mm x 210.8mm
External Dimensions (HxWxD)
2.3 in. x 8.4 in. x 13.1 in.
58.4mm x 213.4mm x 332.7mm
2.3 in. x 8.4 in. x 13.1 in.
58.4mm x 213.4mm x 332.7mm
2.3 in. x 8.4 in. x 13.1 in.
58.4mm x 213.4mm x 332.7mm
2.3 in. x 8.4 in. x 13.1 in.
58.4mm x 213.4mm x 332.7mm
Internal Weight
3.7 lbs. / 1.7 kg
3.7 lbs. / 1.7 kg
3.7 lbs. / 1.7 kg
3.7 lbs. / 1.7 kg
External Weight
9.4 lbs. / 4.3 kg
9.4 lbs. / 4.3 kg
9.4 lbs. / 4.3 kg
9.4 lbs. / 4.3 kg
Read/Write Compatibility
Write: LTO-8, LTO-7
Read: LTO-8, LTO-7
Write: LTO-7, LTO-6
Read: LTO-7, LTO-6, LTO-5
Write: LTO-6, LTO-5
Read: LTO-6, LTO-5, LTO-4
Write: LTO-5, LTO-4
Read: LTO-5, LTO-4, LTO-3
MTBF (Mean Time Between Failure)
250,000 hours @100% duty cycle
250,000 hours @100% duty cycle
250,000 hours @100% duty cycle
250,000 hours @100% duty cycle
Buffer Size
1024MB
1024MB
512MB
256MB
Data Rate Matching (native)
112-365MB/s
101-306MB/s
40-160MB/s
40-140MB/s
Power Consumption (maximum)
30 watts
24 watts
24 watts
24 watts
Temperature (operating)
50° - 105°F
10° - 40°C
50° - 105°F
10° - 40°C
50° - 105°F
10° - 40°C
50° - 105°F
10° - 40°C
Humidity (operating)
20-80% (non-condensing)
20-80% (non-condensing)
20-80% (non-condensing)
20-80% (non-condensing)
Standard Warranty
3 Years. bronze advanced exchange
3 Years. bronze advanced exchange
3 Years. bronze advanced exchange
3 Years. bronze advanced exchange