RDX® QuikStor™

Rugged, Reliable, Removable Storage for your Business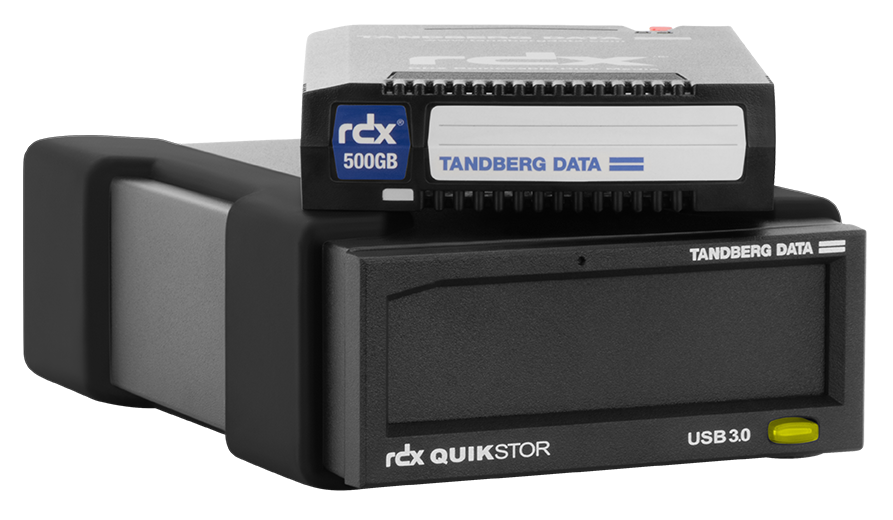 More pricing below, click here

Please Note: All Prices are Inclusive of GST
RDX® QuikStor™

Rugged, Reliable, Removable Storage for your Business
The RDX QuikStor media-based removable storage system offers rugged, reliable and convenient storage for backup, archive, data interchange and disaster recovery. It provides enterprise performance and fast access, with transfer rates of up to 1,188 GB/hr and capacities up to 5TB per cartridge.
Key Benefits
Fast Access
Disk-based speed and data-access
Budget-Friendly
Cost-effective solution that suits all sectors from SOHO users to departmental users.
Flexible
USB 3.0 SuperSpeed and SATA III interface, internal and external drives and HDD media in different capacities.
Rugged and Tough
Shock and drop protected media design ensures durability and reliability with more than 10 years archive life. Vibration isolation ensures write /read performance reliability.
Removable & Secure
Expand capacity and span backups across media. Media rotation and off-site copies for archiving and peace of mind.
Compliant & Secure
Use rdxLOCK software for WORM compliant archive and Ransomware protection.
Encryption
The RDX SATA III drives provide FIPS 140-2 validated hardware encryption
Mobile
The external USB3+ version is USB powered and can be used as a mobile storage device.
19″-Rack Integration with QuadPAK™
Easy installation of up to 4 external RDX USB drives
Windows-Backup Support
Configurable operating mode for Windows Backup Application in all USB 3.0 versions
Features:
Enterprise Reliability
The exploding growth of mission-critical digital content combined with government regulated retention policies has created a need for secure, reliable and portable data protection solutions at an affordable cost. The Overland-Tandberg RDX QuikStor technology delivers a rugged design for maximum data protection and secure handling. Full backward/forward compatibility allows users to scale to higher capacities, without worrying about drive generations.
High Performance
SuperSpeed USB 3.0 and SATA III interfaces offer high performance. With a choice of hard disk and solid-state disk media, unique performance requirements are met. From professional workstations to the low-end enterprise, RDX QuikStor provides users with best-in-class backup and archive capability that is ideally suited to help users get their businesses up and running quickly in the event of data loss.
External USB3+ Version for more Mobility
The external RDX USB3+ drive is USB powered. It is as easy to use as an external USB disk drive but much more robust and reliable. With more conveniece for the traditional backup tasks it enables RDX for outdoor usage like scientific data collection, in the media and entertainment environment, mobile workforce or just for easy data distribution across locations.
Fixed Disk Mode for Windows® Backup
RDX QuikStor provides a fixed disk mode in USB 3.0 drives and is the only removable storage device that integrates seamless into Windows-backup utility. Users don't have to install aditional software for data protection on Windows.
Capacity Expansion and Media Rotation
For best practice, multiple media should be used for backup and stored off-site for disaster recovery purposes. Media Spanning to multiple RDX media is possible with supported backup software and allows backups to grow and to expand capacity beyond a single RDX media.
Additional Protection
Overland-Tandberg offers enhanced security features for RDX to satisfy the requirements of a broad area of applications. RDX WORM enhances RDX for compliant archiving (optional software-solution). RDX RansomBlock protects backup data stored on RDX media against virus and ransomware attacks. PowerEncrypt hardware encryption for SATA III drives and RDX Cartridge Encryptor (RCE) software for USB drives are features to encrypt data stored on RDX media at no extra cost.
Technical Specifications:
Specifications
Internal RDX Drives
External RDX Drives
Form Factor
3.5″ (SATA III/USB 3.0)
5.25″ (SATA III/USB 3.0)
External Housing (USB 3.0)
Height
41 mm (1.63 in)
41 mm (1.63 in)
52 mm (2.04 in)
Width
102 mm (4.00 in)
146 mm (5.78 in)
110 mm (4.32 in)
Length
159 mm (6.28 in) incl. bezel
170.72 mm (6.72 in) incl. bezel
178 mm (7.00 in) incl. bezel
Weight
408 g (0.9 lb)
635 g (1.4 lb)
615 g (1.35 lb)
Mounting & Operating Orientation
Horizontal or Vertical
Interface
SATA III
USB 3.0
USB 3.0 (USB powered)
Interface Connector
SATA
Type-B
Type-B
Interface Operation Mode
Removable disk
Removable disk & Fixed disk
Removable disk & Fixed disk
Transfer Rate Average Sustained (media dependent)
Up to 330 MB/s
Up to 260 MB/sUp to 260 MB/s
Up to 260 MB/s
Power Specifications
SATA III
USB 3.0
USB 3.0 (USB powered)
Voltage
+5 V
+5 V
+12 V
+5 V
Current at Read/Write (Typical / Peak)
0.9 A / 1.6 A
0.9 A / 1.6 A
0.005 mA / 1.4 A
0.9 A / 1.6 A
Power Connector
SATA Power
4-Pin Molex
optional: 5.5 mm
Power Adapter
4-Pin Molex to SATA Power
SATA Power to 4-Pin Molex
optional power adapter:
+5 V (+/- 10%) 2,4 A to
+12 V (+/- 10%) 1,0 A
Media
Capacity
500GB, 1TB, 2TB, 3TB, 4TB or 5TB (HDD) / 128GB, 256GB (SSD)
Read/Write Compatibility
Forward/backward compatibility to all RDX drives and systems
Reliability
Media Drop Shock (Non-operating)
1m drop to tile over concrete oor (Media)
Load-/ Unload (Minimum)
Drive: 10,000 insertion / removal cycles,
Media: 5,000 insertion / removal cycles
MTBF
550,000 Hours
Vibration (max)
0.5G (operating), 1.0G (non-operating)
Environmental
Temperature
Operating: +10°C to +40°C (+50°F to +104°F),
Non-operating:-40°C to +65°C (-40°F to +149°F)
Relative Humidity
Non-condensing, operating:20% - 80%,
Non-condensing, non-operating:8% - 90%
Altitude
Operating:-15 m to 3,048 m (-50 ft to 10,000 ft),
Non-operating: -15 m to 10,660 m (-50 ft to 35,000 ft)
Other Features
Encryption
PowerEncrypt - hardware-based encryption for SATA III internal drives, FIPS 140-2 validated.
(Software encryption is supported on all drive types.)
WORM
Enables compliant Archiving with rdxLOCK Software, KPMG certified (optional)
RansomBlock
Protects agains virus and ransomware attacks with rdxLOCK Software (optional)
Compression and Deduplication
Supports software-based compression and deduplication
Windows Backup
Fixed Disk Mode for Windows Backup Utility available in all USB 3.0 versions
Accessories
RDX® TENCASE
Optional, stores up to 10 RDX media in a robust and secure box (part.-no. 1022291)
RDX® QuadPAK™
Optional, allows up to 4 RDX external drives to be securely installed in a 19" rack (part.-no. 3800-RAK)
FIPS 140-2 Security Label Set
Optional, needed for validation of tamper evident for FIPS 140-2 (part. no. 1022445)