Overland Storage Products & Solutions

Effortless data management and data protection solutions

The NEO XL-Series ensures that data is protected faster, smarter, easier and more cost-effectively.
Designed for IT offices with limited space, limited resources and limited budgets, the NEOs family delivers the ultimate in simple, affordable, reliable backup, archive and disaster recovery.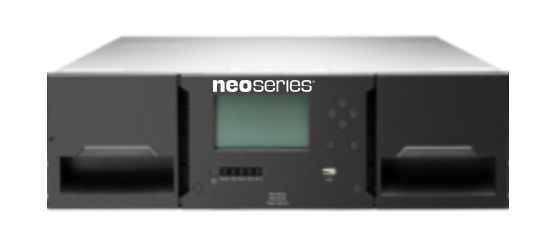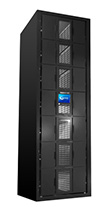 Intelligent monitoring management
Effortless Installation and Configuration
Upgradable Tape Drives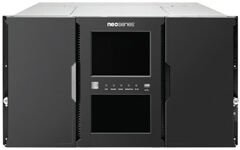 Intelligent Remote Management
Expandability/Scalability
Removable Cartridge Magazines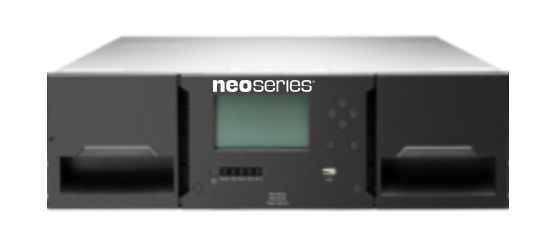 Rack-friendly form factor
Effortless Installation and Configuration
Removable Cartridge Magazines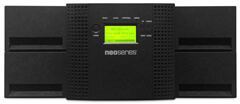 Partitioning
Encryption
Removable Cartridge Magazines

Encryption
Remote Management
Upgradable Tape Drives

Encryption
Remote Management
Affordably backup or archive up to 120TB of data
RDX Removable Disk
RDX QuikStor and RDX QuikStation Removable Disk Backup
RDX® is a removable disk-based technology providing lightning fast backup and restore. The RDX product family is designed to deliver cost efficiency to small and medium-sized businesses (SMB) with growing data storage needs. There's no technical mountain to climb here, and it's just as easy to store data offsite-simply remove the pocket-sized disk media and carry to another location.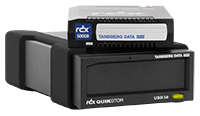 1 piece of media
Single drive
Capacity: Up to 5TB
---
Protects: Single workstation or server
Typical backup scheme: 3 Media Rotation

4 pieces of media
4-drive appliance
Capacity: Up to 20TB
---
Protects: Multiple workstations or servers
Typical backup scheme: Network attached RDX with multiple drives or one large RDX volume

8 pieces of media
8-drive appliance
Capacity: Up to 40TB
---
Protects: Multiple workstations or servers
Typical backup scheme: Network attached disk array with multiple drives
LTO Ultrium Tape Drive
Rethink Backup and Archive with LTO Tape Drives
With superior performance and capacity, and available in both internal and external configurations, Overland-Tandberg LTO Ultrium tape drives are ideal for backing up and archiving data on single workstations or small networks. Features such as 256-bit Advanced Encryption Standard (AES) ensure that data contained on the cartridges is secure for archiving and off-site transportation.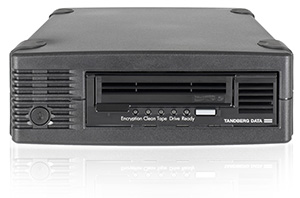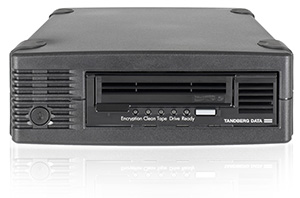 Capacity (native): 1.5TB
Transfer Rate (native): 140MB/s (504GB/hr.)
Interface: 6Gb SAS/SFF 8088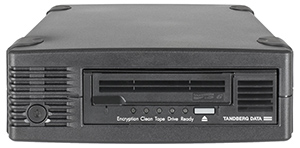 Capacity (native): 2.5TB
Transfer Rate (native): 160MB/s (576GB/hr.)
Interface: 6Gb SAS/SFF 8088
Overland-Tandberg LTO media provides compatibility across multiple product generations, giving you the ultimate in choice and affordability and ensuring you benefit from superior investment protection.
LTO data cartridges and cleaning cartridges provided by Overland-Tandberg are recommended for use with all Overland-Tandberg LTO tape drives, tape autoloaders and tape libraries. Used in the design, test and manufacture of our NEO Series tape-based storage solutions, Overland-Tandberg LTO media ensures the availability and security of your data. With over 25,000PB (25 Exabytes) of data stored on LTO media, LTO media from Overland-Tandberg provides the absolute lowest cost per gigabyte and highest reliability for long-term data storage.